Well met, Valiants!
Today we are excited to share some details about a new game feature that is hot off the workbench of our Valiant Designers, new items called
Insignias
! An
insignia
is new type of item that can only be exclusively created by transmuting one of your heroes. Transmuting a hero for an item, you ask? Insignias will be powerful items that can be equipped on your heroes that will not only fill that
7th equipment spot
you've been wondering about, but will also grant power bonuses that will make your heroes all the talk of Westpine Plains.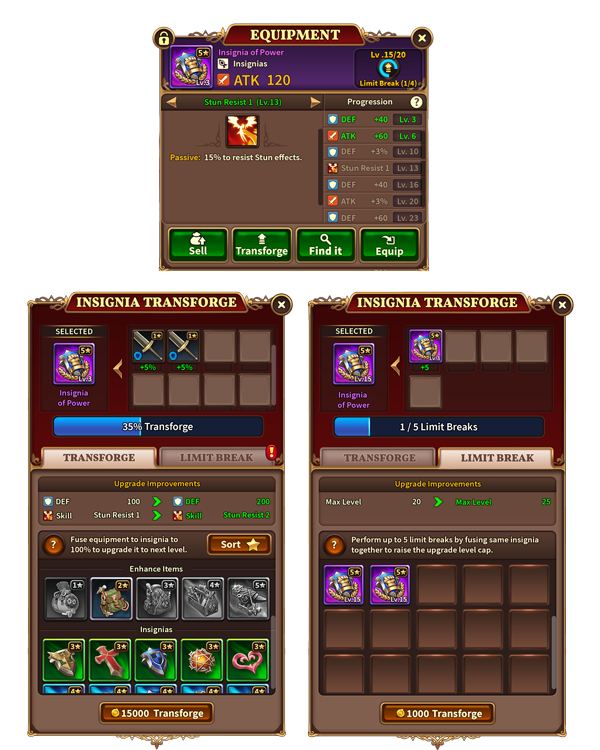 P.S. All images shown are for illustration purpose only and do not reflect the true power of the insignias.
How to use this feature:
Players will be able to transmute a fully trained 5-star hero into an item. The hero must already have learned a few
Talent Points
before it can be transmuted.
Example:
5-star Kai+2, with 5 talent points.
Transmuting a hero will grant an Insignia.
- To level up this insignia, instead of the usual upgrading method, players will need to fuse other equipment into it (similar to equipment enhancement!).
- Every few levels, the insignia will grant specific bonuses.
- Players will need to Limit Break the insignia with the SAME insignia after a certain amount of levels in order to unlock the next few levels (e.g. an insignia can go from lvl 1 to 10. Limit Break it to unlock the next tier of levels 11 to 20).
- The number of times an Insignia can Limit Break depends on the power of the Insignia.
*Note: Insignias may contain unique skills in the future.
Purpose of this feature:
This feature is aimed for veteran players who may have already accumulated some duplicates of the more common 5-star heroes. Players may use these heroes to gather different kinds of insignias, which can then be used to continue making their favorite heroes even stronger.
Thank you for taking the time to read this developer blog update. As always, we appreciate the player and community feedback we receive regarding our newer features, and we look forward to hearing more ideas and suggestions from you!