Good day to all Valiants!
Halloween may be over but the horror still lurking in the continent of Arathos, it looks like the undead still cannot go back to the grave. Follow Leon and Theia on their journey to unfold the truth behind the undead rising and the mysterious individual, Kahuna.
This time,
The Rowdy Rondy Circus
visits
Westpine
once more with its death-defying, hair-raising performances! Join the Audience today!
Check out the steps below for more guidance:
Step 1:
 You have to reach Level 10 to unlock
Event TAB.
  Click the Event button and "
Curious Carnival of Horrors
" will appear. 
Step 2: 
Basically there are three main difficulties that you have to complete;
Normal, Heroic and Legendary.
You have to enter three hidden rooms for the Heroic and Legendary. Those three room has different items to drop thus you have to collect them to claim your rewards on Event Achievement.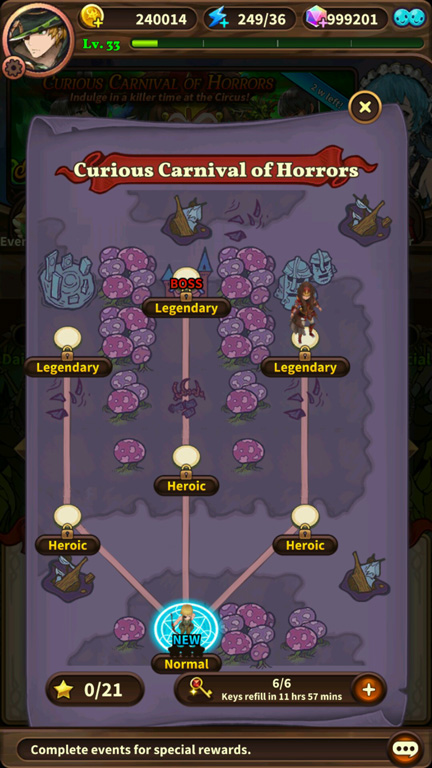 Step 4:
 There are three rooms of Heroic and Legendary. Each Room will drop different Relics. There are
Antique Doll Head
from
Room of Wrath
,
Stained Toy Soldier
from
Room of Greed
and
Torn Teddy Bear
from
Room of Sacrifice.
Collect them all and complete Event Achievement to receive rewards!
Step 5:
 You can go the Event easily from Achievements tab too! and remember to check the Event Achievements tab for the event quests! Clear all achievements and get your rewards!
Notes:
Legendary Chest has 200% Drop Rate than Heroic! Get your Legendary Valiant to break the chests!
There is no Event Ladder for this week's event.
There will be Bonus Wave in between the Waves and you will receives a special Relic called "Unrefined Gem". This Relics can be used to buy varies items from Bazaar and even GEMS!
Event Heroes, Kahuna is obtainable in 100% Milestone and Bazaar by exchanging "Unrefined Gems"
The new Hero Summon, Seraphina will have 300% (3-stars) and 400% (4-stars) boosted stats in Carnival Event when fighting against Undead. The chances to receive Seraphina and Zedd are increased only in this event!