Happy New Year 2017
to all adventurer in Arathos!
The cold weather seems to have brought about the appearance of icy creatures! Grab a shovel and be prepared for snow(men)?! Check out below guidance before you rid the land of unruly snowmen!
Step 1:
You have to reach
Level 10
to unlock
Event TAB
. Click the Event button and "
Mr. Snowman Showdown
" has opened!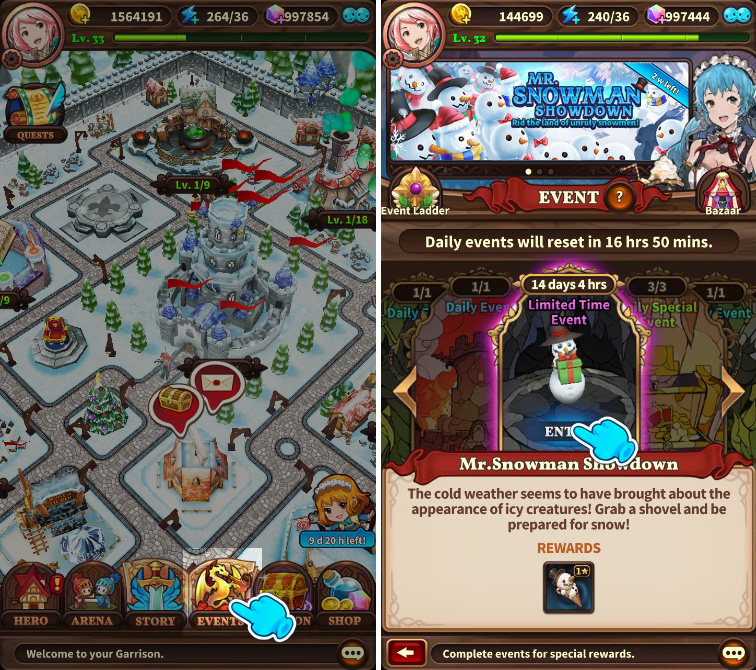 Step 2:
There are three main difficulties that you can challenge:
Normal
,
Heroic
and
Legendary
. To unlock Heroic and Legendary modes, you need to:
Complete Normal story campaign to unlock Heroic event
Complete Heroic story campaign to unlock Legendary event
Remember not to "Express" your way to Heroic and Legendary if you are not good enough for them!
Step 3:
Prepare yourself as there will be an endless wave of Snowmen pouring into the battlefield from both the front and back. Your mission is to defeat as many as you can with your squad, and try your best to survive from
Mr. Snowman and his minions.
Step 4:
Every time you defeat Mr. Snowman, you will be rewarded with
Event Points
which contribute to the
Event Ladder
. You would then receive rewards based on the rank you have at the end of this event. 
Event Ladder will be opened during the last week of this event
. 
Step 5:
Do remember to visit the Bazaar to trade "
Snowman Ice Cream
" that you obtained with special and exclusive loots! You can only redeem each item through limited time only!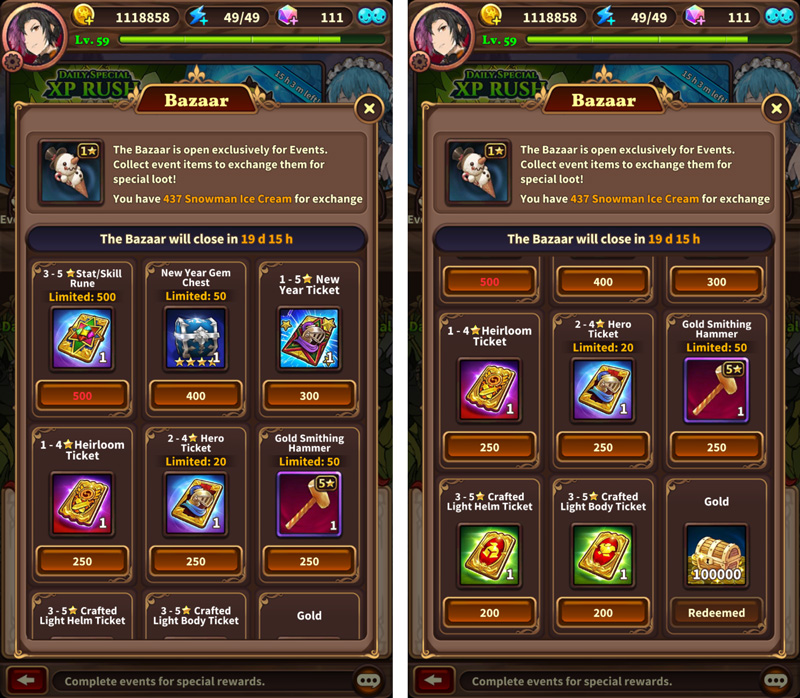 Step 6:
Check the
Event Achievements
tab for the event quests! Clear all achievements and get your rewards!
(Guess who is back for another concert!)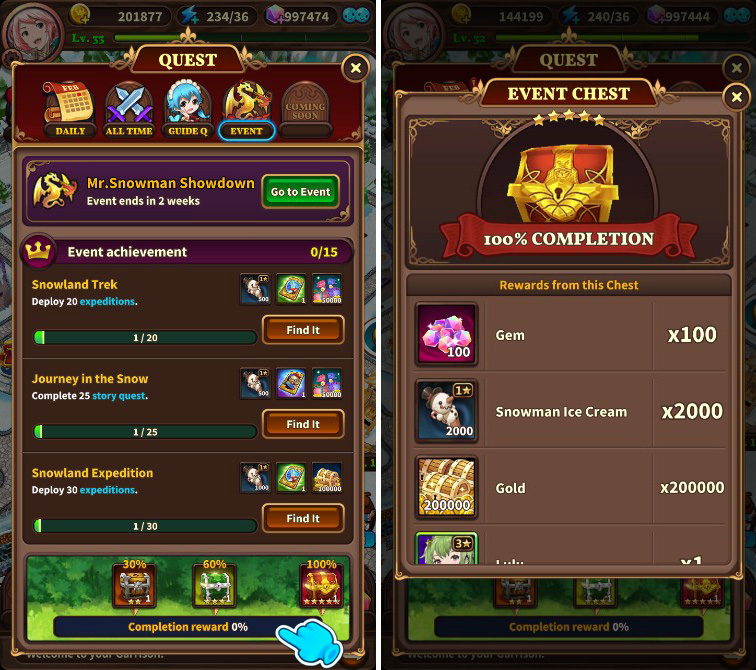 Notes:
- If you are unable to defeat the Snowmen until the end, the mission considered as Victory which you have completed the first trial (Complete the Quest)
- Our beautiful Idol of Arathos, Lulu Rhapsody will join and have boosted stats to help Ronan fighting against the Snowmen. Lulu can be obtained through Event Achievement Chest!
- New Mystic hero, Ronan will have boosted stats in the this Event when fighting against the Snowmen. Do note that Ronan is only obtainable through Gem Summoning.