Greetings to all adventures of Arathos!
Satsuki and Ryozanki are wishing everyone
Happy Lunar New Year
to who celebrates!
Gong Xi Fa Chai!
As we have been reporting through borderline that a
Phoenix
has been spotted within the fiery depths of Arathos! This mythical being is the first boss in Valiant Force with multiple components for players to defeat. It is important to strategize which components to target first in this epic confrontation with the ever-burning Phoenix!
Watch and learn guide below in order to prepare your squad for the volcano heat! You will receive a lots of rewards up ahead if you up for challenge and defeat the Mythical beast:
Step 1:
You have to reach Level 10 to unlock
Event TAB
. Click the Event button and "
Ancient Awakening
" has opened where the Phoenix has waited for you.
Step 2:
There are three main difficulties that you can challenge:
Normal, Heroic and Legendary
. The Event Nodes is similar like Pyramid which 3 Normal nodes, 2 Heroic nodes and 1 Legendary Nodes!
Remember not to "Express" your way to Heroic and Legendary if you are not good enough for them!
Step 3:
Prepare your best squad and strategy to against the
Ancient Birds
where you will encounter with the
Phoenix Eggs
and the
Hatchling Phoenix
. Do not underestimate the little ones, Heroes! You fully aware that they are the sign of regeneration, right?
Step 4:
You also will encounter the Legendary Mythical beast, Phoenix where it have some parts that can be defeated. You have to think of great strategy of what to defeat first whether its tail, wings or head first. Beware for the flame!
Step 5:
Check out Lunar New Year Bazaar and Exchange your Fortune Cookies with special loots only in this event!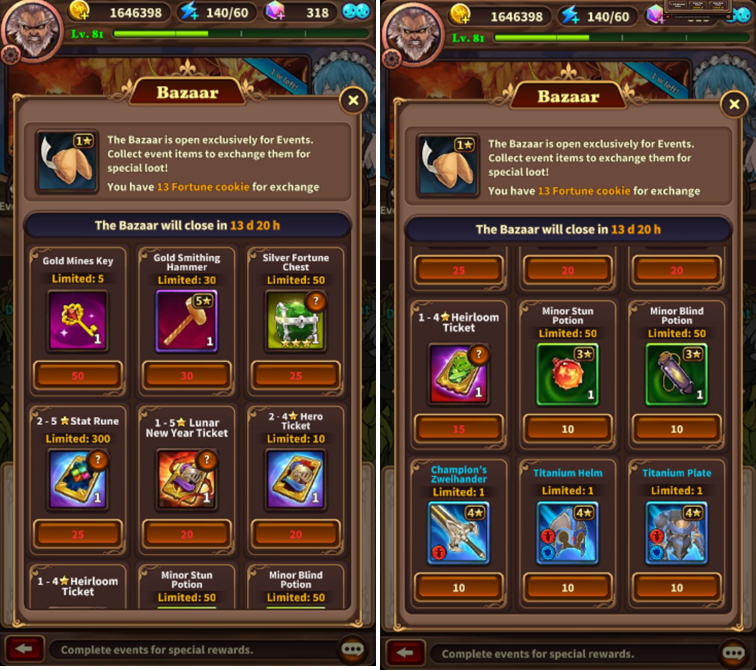 Step 6:
Lastly, remember to check the
Event Achievements
tab for the event quests! Clear all achievements and get your rewards!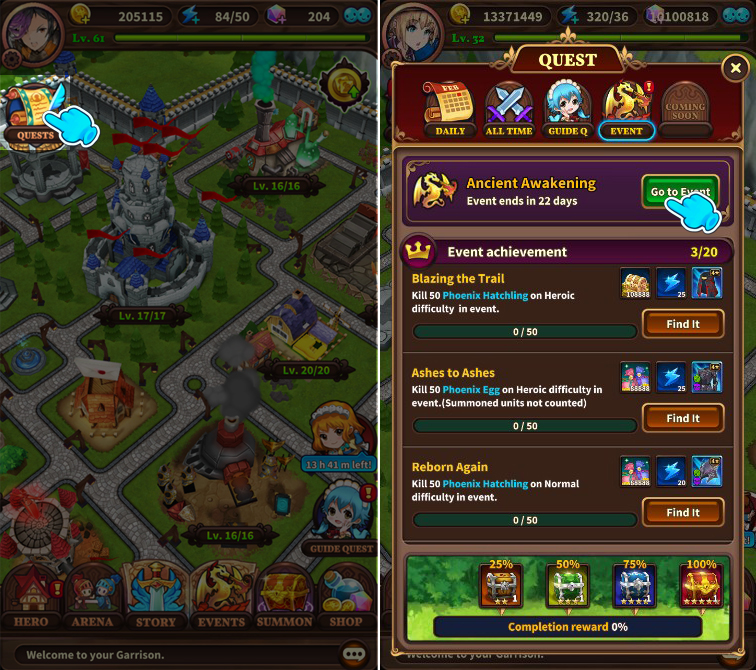 Notes:
Event Ladder will be opened in the 2nd week of this Event.
Introducing Nadia, the new Ranger Class Hero that will have 150% boosted stats while battling with the Phoenix. The chances to receive the Nadia and Vincent also increased only in this event!