Good Day Heroes of Arathos!
The Coliseum event returns for a second season, but two mysterious contenders has bested the all-Valiants team to take top spot. It turns out that a pair of contenders have already risen to the top, including one very familiar face. Do you have what it takes to challenge them?
Watch and learn this guide below on how to prepare your squad to become the best! There will be rewards for all of you who succeed to reach the top of Grand Coliseum!
Step 1:
You have to reach
Level 10
to unlock
Event TAB
. Click the Event button and "
Darkness Descend
" has opened!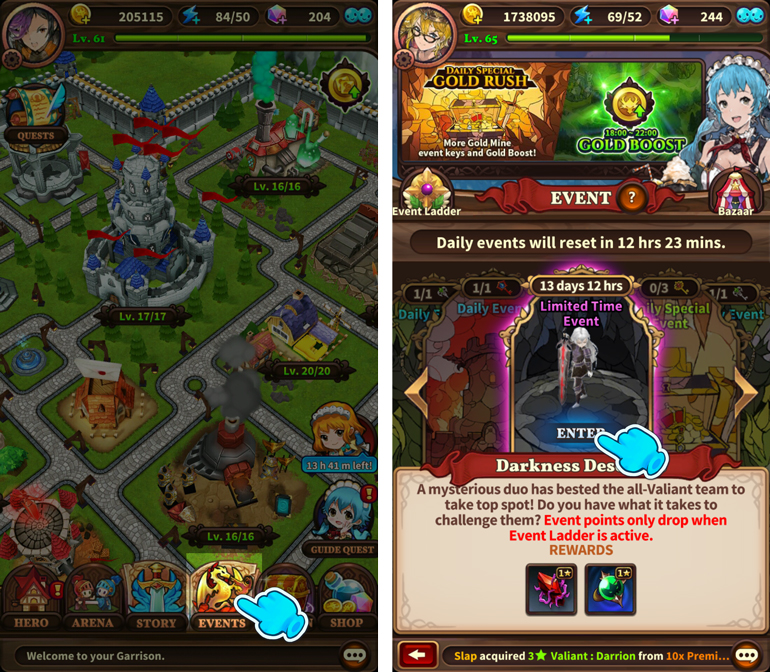 Step 2:
There are three main difficulties that you can challenge: Normal, Heroic and Legendary. The Event Nodes is similar like Pyramid which 3 Normal nodes, 2 Heroic nodes and 1 Legendary Nodes! After your finish the Legendary, you will reach the new type of difficulty, Master Mode!
Remember not to "Express" your way to Heroic and Legendary if you are not good enough for them!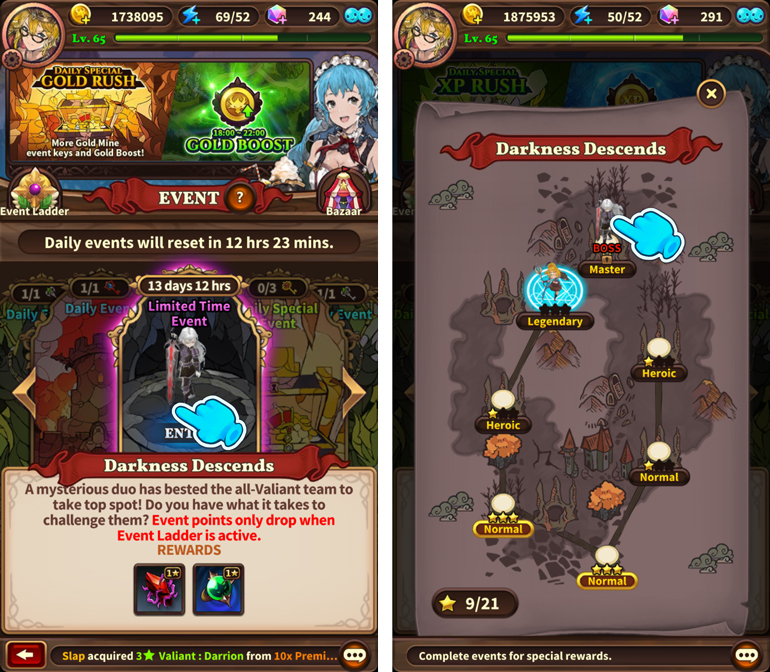 Step 3:
In this event, you will be facing with several familiar faces such as the Valiants. The Normal Nodes,
Sparring Ground
is where you will meet different types of classes. In
Arena of Assassin
you will meet Shadow Class team including Shizu while
Arena of Protector
you will encounter our new Guardian "Arena" Hero,
Aden Lockhart
!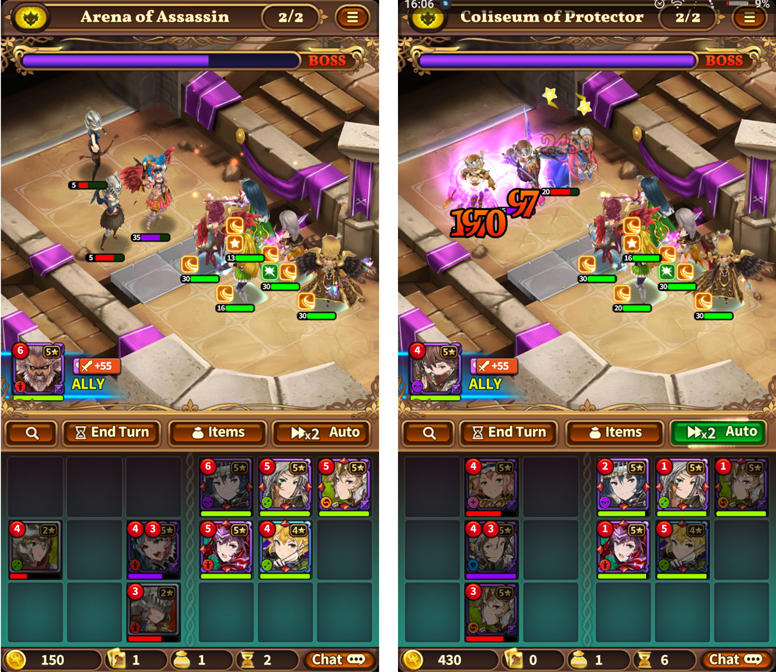 Step 4:
This season, there are two mysterious contenders has bested all Valiant team to take top spot. You will meet them in our new difficulties mode,
Master Coliseum
. You have to defeat all-Valiants first then you can proceed to challenge them.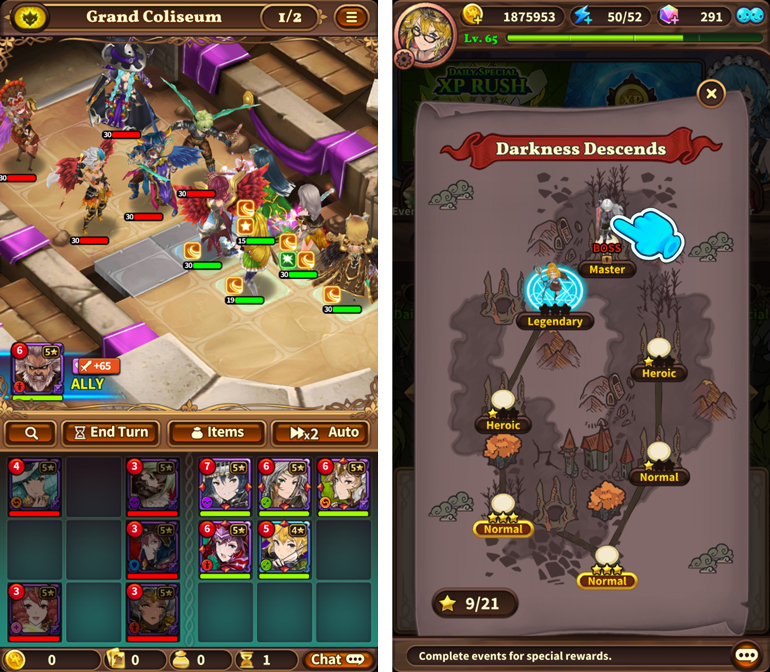 Step 5:
Do remember to visit the
Bazaar
to trade "
Dark Shards
" that you obtained with special and exclusive loots!
Items' exchange limit resets on 2nd March, 5:00 AM server time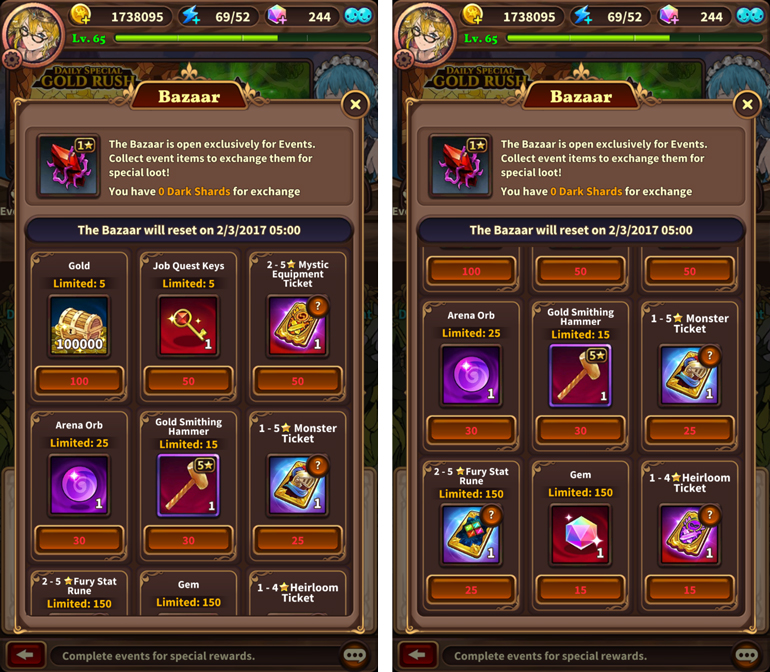 Step 6:
Check the
Event Achievements
tab for the event quests! Clear all achievements and get your rewards!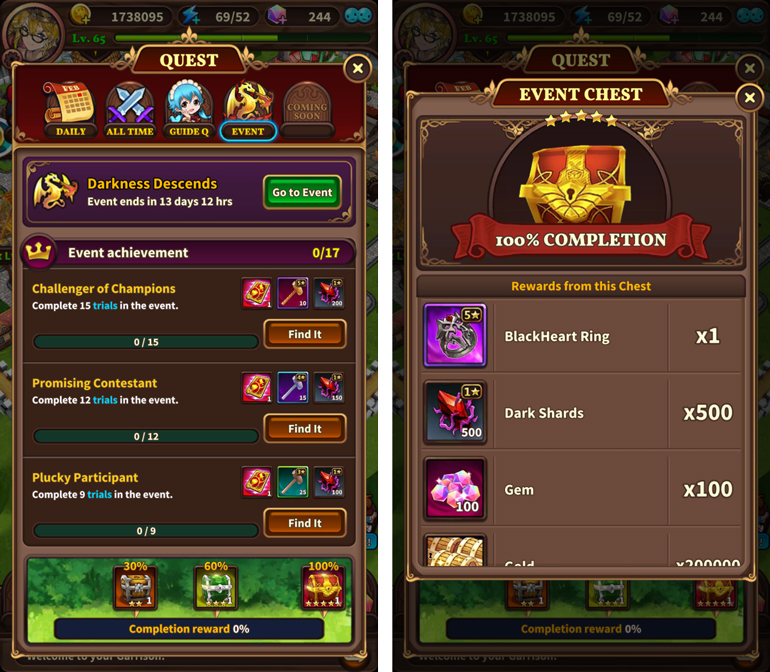 Notes:
Event Ladder will be opened in the 2nd week of this Event.
New difficulty mode in event after Legendary: Master (to challenge players who complete Legendary mode)
The new Hero Summon, Izumi Akagi will have 150% boosted stats, meanwhile The Lockhart siblings (Aden and Faye) will have 50% boosted stats in Coliseum Event. 
Returning Shadow hero: Miu Hanasaki obtainable only from ladder ranking reward