Greetings Heroes of Arathos!
The summoner has fled from the town and it's only a matter of time efore the angry mobs track her down. There is no time to lose! Together with Leon and Theia, find out who is the young summoner and stop the Witch Hunt.
Step 1:
Event Tab will be unlocked if you have reached
Level 10
. Click the
Event Tab
and this week event, "
Sentinel's Covenant
" ready to be entered.
Step 2:
Complete the quests in three main difficulties: Normal, Heroic and Legendary. Once you completed the Legendary,
Talissa Nightsong
and her Summon,
Sentinel
is waiting for you in Master Mode. Remember not to "Express" your way to Heroic and Legendary if you are not good enough for them! Keep level up your Heroes and prepare best strategy!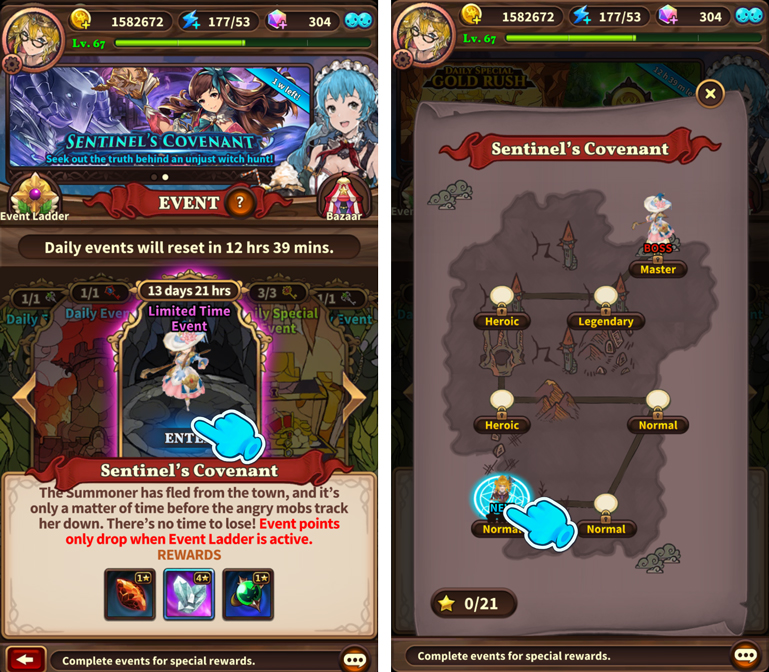 Step 3:
Before you meet Talissa, you have to face the
Sentinels
, Talissa's Pet as they will protect her at all cost!
Beware for the Sentinel's Skill, it may cause you disadvantage

!
You will also facing Bonus Encounter where you will get Crystal Memory to finish your Event Achievement.
Step 4:
Visit the Bazaar to trade "
Lava Ruby
" that you obtained from event quest with special and exclusive loots!
Step 5:
The Event Quests has been updated, do check them regularly to determine which one need to be completed first.
Event Achievement
can be seen through Quest Tab on the left side.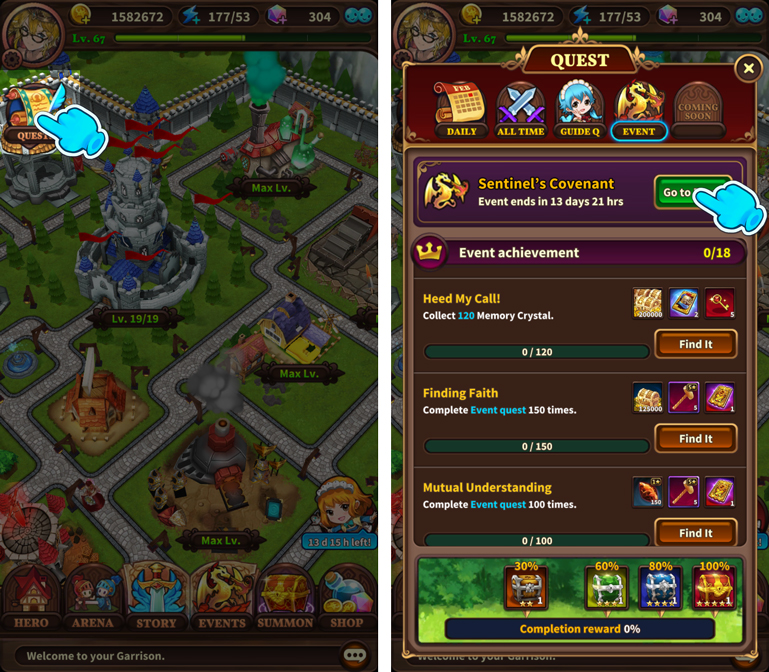 Notes:
Event Ladder will be opened in the 2nd week of this Event.
The new Summoner Hero, Talissa Nightsong will have 150% boosted stats.
This time Kahuna is joining our troops to help Leon and Theia's journey. He will also received 50% boosted stats to defeat Talissa and the Sentinels.
Increase summon chance for both Talissa and Kahuna