Trick or Treat!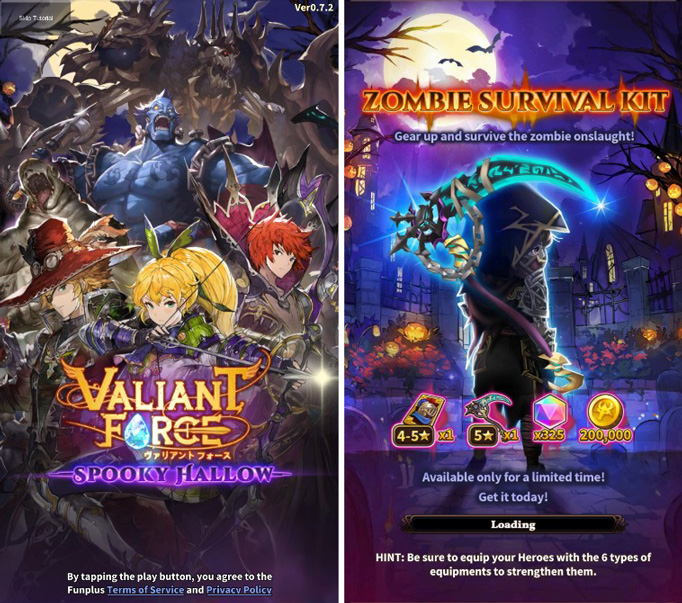 ---
Welcome Heroes of Arathos, this is
Satsuki
reporting. We have a report that the undead have risen and threatened to ruin the peace of our beloved Arathos. Grab your weapons now and repel the zombies together! 
We will guide you on how to defeat the undead army and obtain treasures at the same time:
Basic Steps:
1. You have to reach Level 9 to unlock Event and Halloween Event will be shown (or slide right).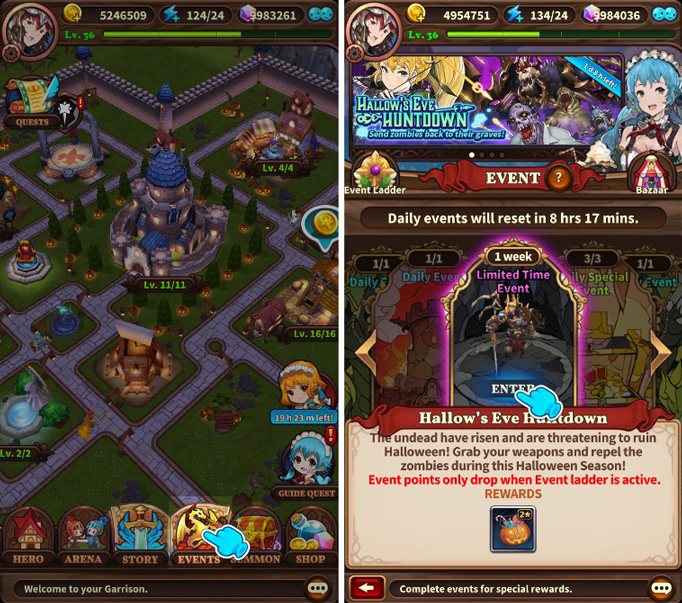 ---
2. There are three main difficulties that you can challenge: Normal, Heroic and Legendary. 
Remember not to "Express" your way to Heroic and Legendary if you are not strong enough to challenge them!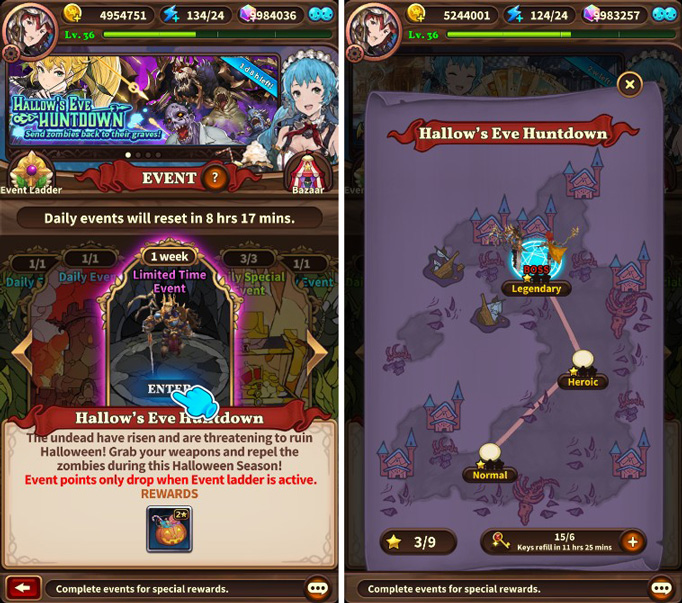 ---
3. Remember to check the Event Achievements tab for the event quests! Clear all achievements and get your rewards!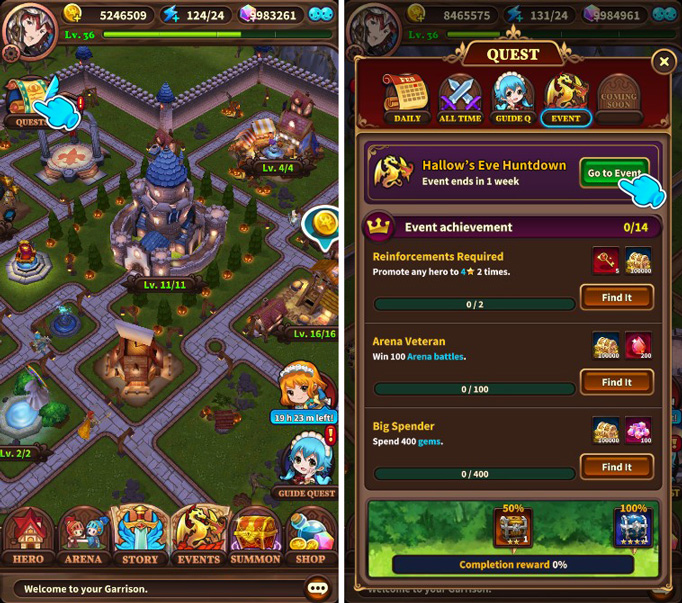 ---
---
Let's begin our training:
Step 1:
Prepare yourself as there will be an endless wave of undead pouring into the battlefield from both the front and back. Your mission is to defeat as many as you can with your squad, and try your best to survive!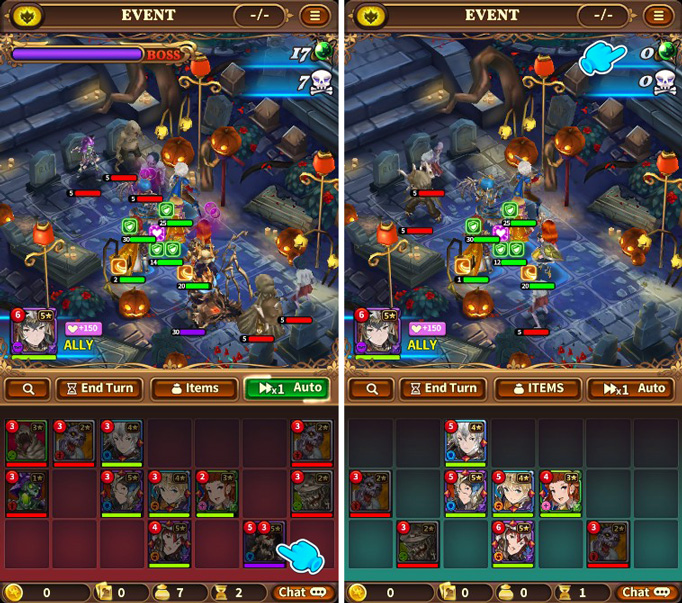 Step 2:
Skeleton King Maleos, who is responsible for the rising of the Undead, is controlling his vast army within the Legendary difficulty.. Brace yourself for a tough battle and defeat him at any cost!
Step 3:
You may also encounter either Zombies or Mini Bosses. The Zombies will move around quickly, so defeat him with a sound strategy. Upon defeat, he will  leave event-related items for you (Event Points or Jack o' Treats). Similar to the Mini Boss, the Zombies will show up again in the next wave if you are unable to defeat him.
Step 4:
Every time you defeat Undead monsters, you will be rewarded with Event Points which contribute to the Event Ladder. You would then receive rewards based on the rank you have at the end of the Halloween Event!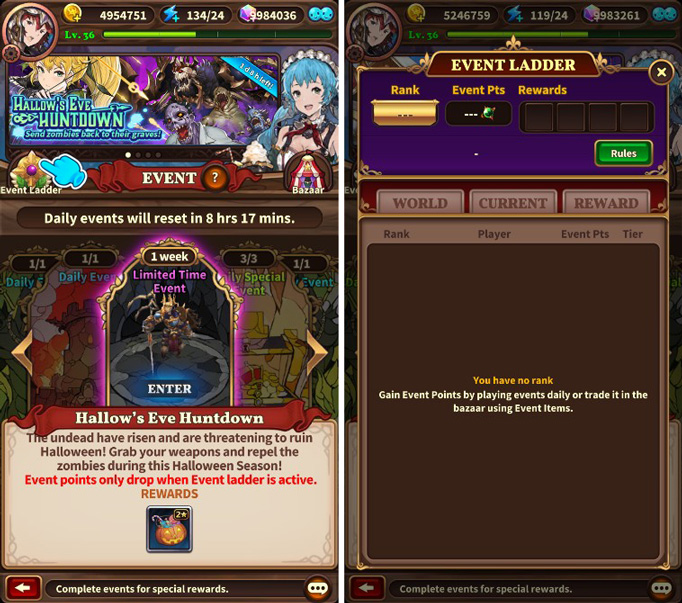 Step 5:
Visit the Bazaar to trade Jack o' Treats that you obtained  special and exclusive loots! Remember, you can only redeem each item one time only!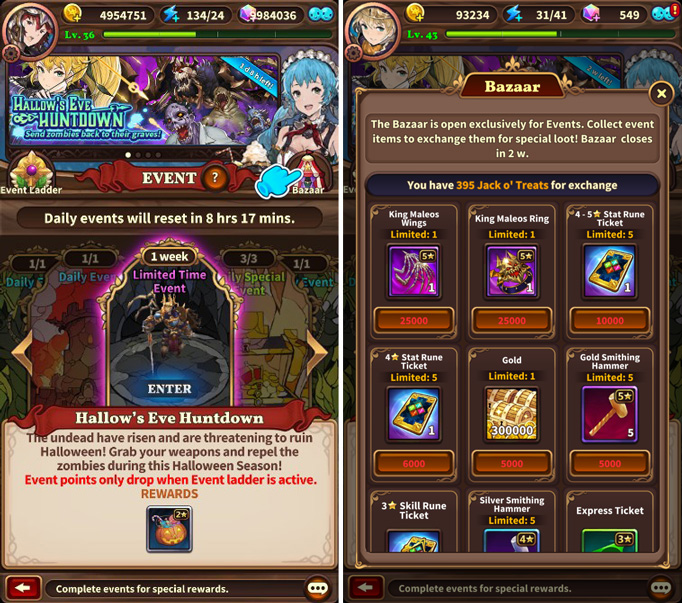 Notes:
Even if you didn't defeat all Undead Monsters, it would still be counted as a

VICTORY

which means you have completed the first trial (Complete the Quest)

To celebrate the new Ranger hero, Winry Reinholt, she will have 300% boosted stats in the Halloween Event when fighting against Undead. Do note that Winry is only obtainable through Gem Summoning.

All cleansing skills will not work on the poison damage dealt in the event

For the mighty Skeleton King card, there are 3 different ways for players of all levels to obtain. No worries even for newcomers!




Method 1:

100% chance to obtain from 100% event completion milestone chest


Method 2:

Chance to obtain by exchanging Halloween Tickets
Method 3: Top rankings in Event Ladde

r